Analysis by Cornwall Insight shows the number of public electric vehicle (EV) charge points per EV has fallen to its lowest level since 2018 (when Cornwall Insight records began). In fact, for every one EV in the UK, there are 0.28 public charge points. This decline is shown in the below graph.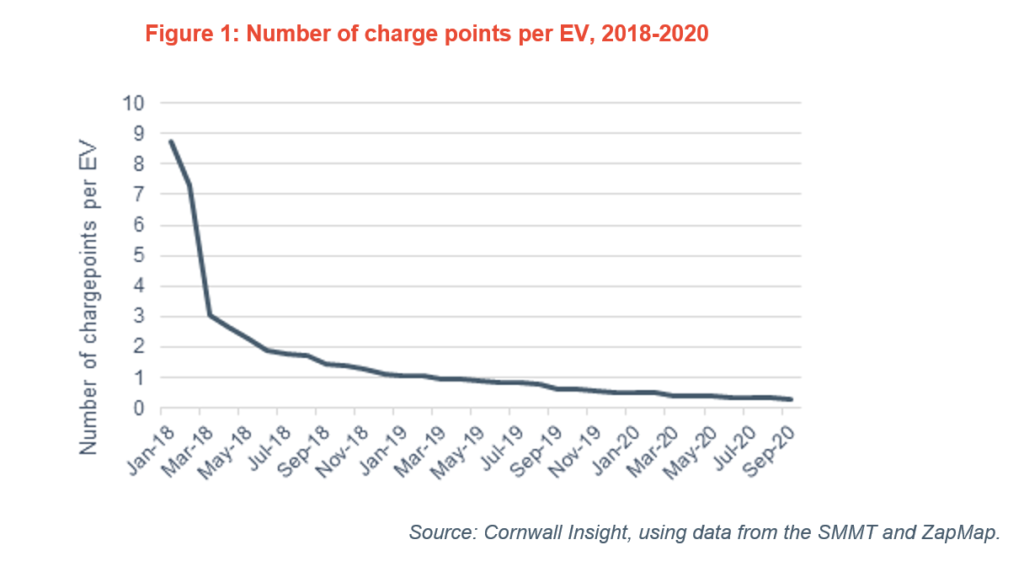 Katie Hickford, Analyst at Cornwall Insight, said:
"COVID-19 restrictions have undoubtedly loomed large over the installation of charge points and has unsurprisingly suppressed the number of installations we have seen over the course of the year. In the same period, the number of EVs on the road has grown with year-to-date registrations up 169% compared to 2019.
"Despite the valid reasons for the slow-down in the number of charge point installations, the lack of charging infrastructure at the very time EV sales are starting to gather pace could potentially make it difficult to galvanise public opinion that the switch to EVs will be an easy transition.
"Although the majority of EV charging will happen at home, there are definite gaps in public charging provision. It is not simply about the number of chargers; they also need to be the right type, i.e. rapid or a slower speed and in the right locations.
"It is an exciting time for EVs, and the demand for public charge points is only going to grow, particularly as the government has brought forward the ban on new petrol and diesel vehicles to 2030. It is vital that charging infrastructure across the country keeps pace with the demand to ensure the UK's net zero ambitions are realised."
Maria Connolly, partner and head of Real Estate and Clean energy at TLT LLP said:
"The increasing market share of EVs is encouraging, but in order to drive forward the transition to transport electrification and ensure consumer confidence, the development of the right types of charging infrastructure – in the right places – is vital.
"Local authorities will play a critical part in the development and growth of EVCI, and there is already an encouraging number of schemes being progressed in partnership with private developers. We are also seeing the development of EV charging station models which will provide much-needed charging infrastructure along major transport routes. The investment recently announced in the government's 10-point plan is also welcome news, and while there are challenges to overcome, this will certainly provide more opportunities to increase EV charging infrastructure.
"It's clear that as EV ownership increases, we will need to see greater focus on negating the impact of vehicle electrification on the electricity network. The need to bring together technologies such as energy storage with EVCI has never been more important to make sure the UK's ambitious targets are reached."
–Ends